September Reopening 2020
**Reminder!**
It's good to be back!! We've really enjoyed being back in school and seeing our amazing children and families!
We've been monitoring things around school and would like to thank you all for your continued cooperation and support! We've tweaked a few things to make pick and up and drop off times as smooth and socially distanced as possible.
With that in mind, now that the children have settled back in, we ask that only one adult drops off and collects and that you follow the one-way system defined by the cones and ensure you adhere to the staggered timings. Many thanks!
RECEPTION- 8:45AM - 3:15PM
YEAR 1 - 8:55AM - 3:15PM
YEAR 2 - 8:30AM - 2:50PM
YEAR 3 - 8:55AM - 3:15PM
YEAR 4 8:30AM - 2:50PM
***Update - 8.9.2020***
If you're child is or has been unwell, please see the guidance below.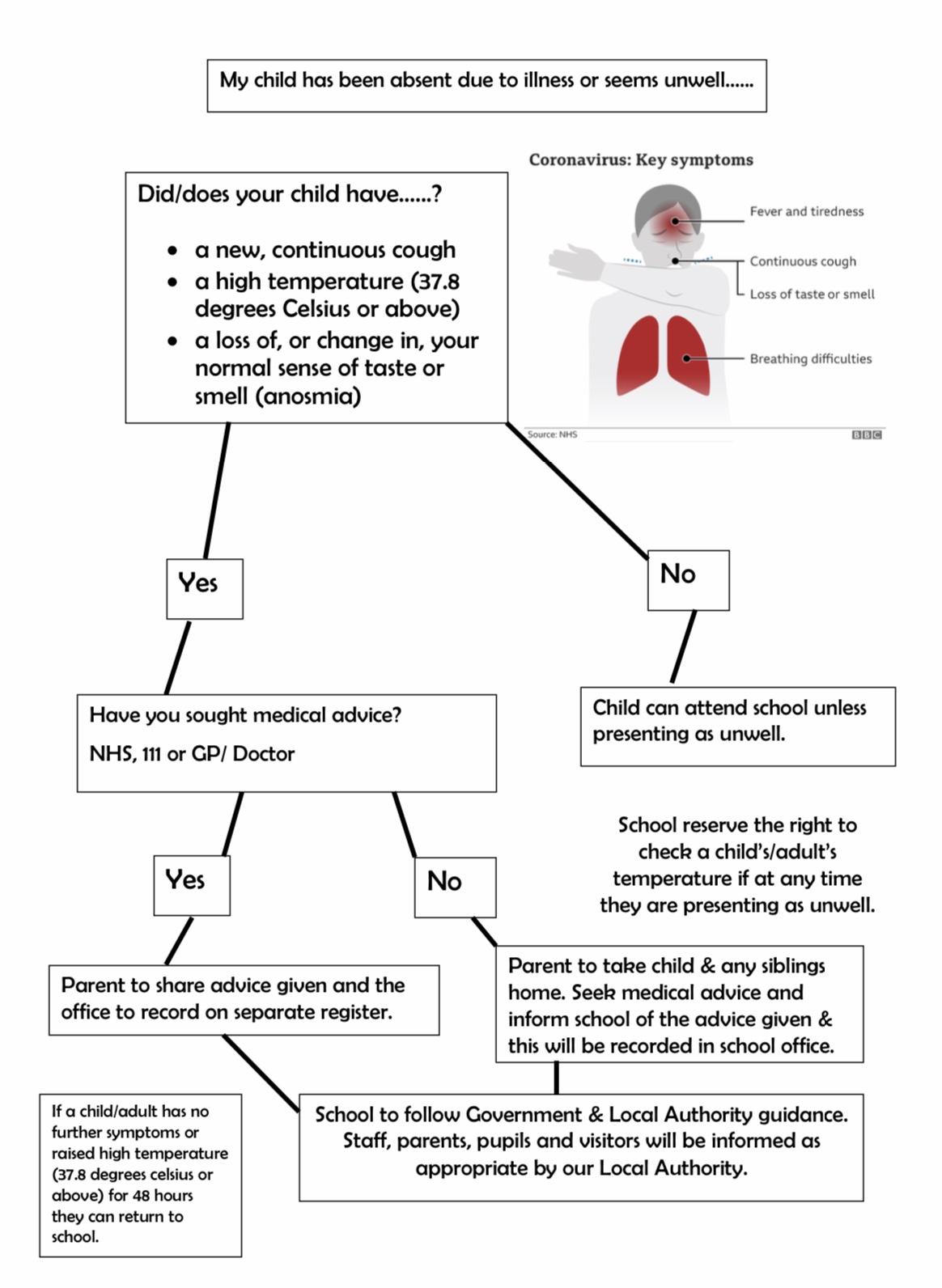 **UPDATED - 1st September 2020** (see below)
We understand that you may have many questions regarding our schools full re-opening and we will endeavour to provide you with as much information, here on our website, as possible.
Please look through each of the sections on this 'September 2020' section of the website, however, if you do have any questions please do not hesitate to email the school, your child's new teacher or message us through our new Facebook page.
You can also view our latest risk assessment here

Welcome new starters!
We're very excited to be welcoming our new Nursery and Reception children from
Thursday 3rd September!
We look forward to seeing you for your induction session!
Welcome back!
Welcome back to our returning children, we are really looking forward to seeing you on 3rd September - we have missed you!
As per Government guidance, year groups will have staggered starts and end times to minimise the number of people on the playground and to help maintain social distancing.

**UPDATE - 1st September 2020**
School Drop Off and Collection
To ensure the safety of everyone, there will be a ONE WAY system during drop off and collection.
Where is the entrance?
The top gate onto the school playground by the Year 1 garden.
Where is the exit?
Once you have taken your child to the relevant drop off point, please head across the playground to the exit at the front of the school by WANDS.
There will be staff to guide you.
All staggered pick up and collection times remain the same
Only one adult per family to drop off please.
Please adhere to these times to help us keep everyone as safe as possible.
Reception- 8:45am - 3:15pm (doors in the Reception outdoor area)

Year 1 - 8:55am - 3:15pm (Year 1 Side classroom door)
Year 2 - 8:30am - 2:50pm (Year 2 side classroom door)
Year 3 - 8:55am - 3:15pm (Main playground door)
Year 4 8:30am - 2:50pm (Main playground door)
Please note: if there are siblings in multiple classes, all children from the same family to be dropped off at the earliest time and picked up at the latest time. (eg if a parent has children in year 1 and 2 both children arrive at 8.30 and leave at 3.15)
Please do not allow your children to play on the equipment before or after school.
Is breakfast club still available ?
Unfortunately, there will be no breakfast club for the foreseeable future.

What about after school clubs?
Unfortunately there will also be no after school clubs for the foreseeable future.
What about lunchtime?
There will initially be no hot lunches and all children will have a packed lunch. If your child usually has Free School Meals you will be able to order your choice of sandwiches in the same way you chose hot meals. These forms will be available closer to September. More information to follow.

In order to adhere to social distancing guidelines, lunchtimes will also be organised in classrooms and a rota will be in place for an outdoor playtime. Children will regularly wash their hands.

Are all children to come to school?

All children are required to attend school as usual from September. There are a number of measures in place to keep all children and staff safe including regular hand washing, no sharing of equipment, specific arrangements for classroom furniture and routines as well as regular cleaning of classrooms and equipment.

If your child, or anyone in your household shows signs of Coronavirus, please follow the NHS guidelines on self isolating and testing, and inform the school as soon as possible.

We will continue to update you with further details to help ensure a smooth transition back into school for everyone. If you have any questions please get in touch via email and keep checking back here for updates!

Please note that these guidelines may be subject to change as Government guidelines are regularly changing and carefully being reviewed.

Thank you for your support and understanding while we all work together to keep school as safe as possible during this unusual time.
Click on the links to the right for more information about your new teachers and
other useful information!
You can also email your new teacher on the following class email addresses
For Nursery
Mrs Byng - [email protected]
For Reception
Mrs Barber & Mrs Dyer- [email protected]
Year 1
Miss Avery & Mrs Sidley - [email protected]
Year 2
Mrs Sandell - [email protected]
Year 3
Mrs Denby - [email protected]
Mrs Gulliver - [email protected]
Year 4
Mrs Lines - [email protected]
Mrs Larke - [email protected]